High End Beauty Retouching › Hair retouching
Photoshop hair retouching services
Modern photo art will not be able to exist without various photo editing services. No matter how talented you are as a photographer and what professional equipment are in your usage, in order to achieve a really impressive photo result you will need to imply at least some shot changing techniques. And concerning all shot improving spheres, our retouching company believes that professional portrait retouching services are the most commonly used kinds of editing even though they require implying most tiring and time-taking Photoshop or LightRoom options. But still only they enable our customers to get exactly perfect final photos.
As we have mentioned below, portrait enhancement includes various appearance improving options. Among them we may name skin retouching online, teeth whitening, brace removal, blemish or wrinkle retouching and so on. However, this kind of editing consists also of retouching hair in Photoshop. Why this enhancement option is considered to be so crucial in the process of photo improvement?
The most important thing is that hair is extremely difficult and even sometimes truly impossible to manage off camera. For sure that becomes a rather disappointing point during every photo session, no matter whether is it hobby-like or professional one. To make things worse, during professional shot making even on-set stylists are not able to make the hair of a photographed model to look exactly perfect as it is required due to the final result. Very often even professional equipment and proper location in photo studio do not solve this problem.
In this sphere the skillful photo retouchers will become an important helping hand for you. They always shoulder the responsibility of digital Photoshop retouching beauty and hair retouching. Professional shot editors know for sure what to do with your hair in order for it to look so outstanding that nobody will notice any footprints of Photoshop hair retouching on your shot.
Photo retouchers in our company are experienced enough, as we are proud of more than 10 years commercial photo retouching, to order exactly editing options needed for various types and textures of hair they work with. You may be quite confident that having collaborated with our specialists you will be offered only perfect Adobe Photoshop tools, such as Clone Stamp that is most widely used service in hair retouching Photoshop, in order to retouch hair. Be sure that after our editing work the hair in your photos will look so full, soft and at a time healthy and voluminous that everybody will be after a powerful impression after seeing it.
High End Beauty Retouchers
Our photo editing specialists are definitely skillful in retouching hair in Photoshop. For the goal of achieving the natural beautiful flow and appearance of hair in every photo are open to spend tiring hours for the sake of total satisfaction with photo result. They will do editing hair in Photoshop so professionally that you will, beyond doubts, look as if you were a famous model in typical hair advertisement. We believe that everyone reminds a nice-looking woman with a truly brilliant hair. If you thought that this result was achieved with the help of implying various expensive hair cosmetics, you are totally mistaken. That is hair retouching Photoshop that enables models to be proud of their photos.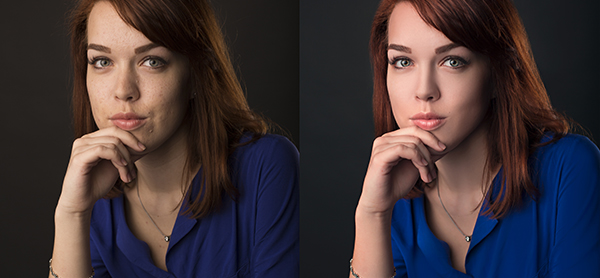 Our digital improving company is proud of using numerous techniques connected with editing hair in Photoshop. Below we will mention and briefly describe some of most popular ones. So, we are pleased to offer such options as:
This technique will be useful if you are in need to solve the problem of unruly hair. We understand how the problem of unmanageable hair can spoil the whole look of every photo. But with the help of this technique your hair will look as if you had visited a professional beauty studio right before the photo shooting.
Creating fullness and volume
That will help the thinning hair to look healthy and just outstanding. This result is achieved due to professional skills of our specialists. For them to retouch hair is the work of great importance. They realize that in portrait editing, especially for fashion retouching services or hdr photo editing every detail, even not eye-catching, should be done perfectly.
Without any doubts, flyaways are annoying. Many people tend to get rid of them in photos. Our team will be helpful for you in solving this definitely awful problem. Everything will be implied quickly and according to your wish.
Toning down, not taking away
Do you have a wish to change your hair color, but you are scared to do it in real life? Try to do it with the help of Photoshop hair retouching! In this sphere of digital shot improving you may choose every color that is possible. If you do not tend to be so radical, we may just do hair toning. That will not change the hair to a great degree, but still it will help it to look fresher and brighter. Especially this kind of digital improving is popular in magazine retouching or model photo retouching where the natural beauty plays the most essential role.
Creatively retouching hair
This sphere of hair editing is believed to be the most exciting one. Here sky is the limit. The range of digital changing option is extremely long. But still our retouchers will definitely advise what will be appropriate to imply exactly on your photo in order for them to stand out from the crowd. This service is especially in demand in glamour retouching or dramatic photo editing. There the main task is to make the photographed model bright and rather eye-catching.
Working with curly, thin, and short hair
For sure the work with curly or shot hair dictates its own rules and options to be implied. If we touch the notion of retouching men`s photos, here the most primary task is to make the shot hair attractive and receding hairline, if they are surely, not visible in final shots. If we come across the problem of kinky hair, here the main goal is to make such hair look natural.
Hair retouching is believed to be a quite important part of portrait editing, no matter whether it is for private or commercial use. For this reason our editing company will do everything which is possible to having breath-taking high end retouching before after.
Our photo retouching prices will also be positively surprising for you. They are rather low and, for sure, pocket-friendly. So, the only thing you should do is to believe in us and just send your shot for retouching. After it everything will be done on your photos instead of you. You need just one click and no problems at all.