High End Beauty Retouching › Portrait retouching
High End Portrait Retouching Services
Professional portrait retouching services have gained their popularity since the early begging of using the first photo changing techniques. Nowadays there are two main directions of applying portrait retouching services. The first one is the sphere of private image enhancement. Here all standard retouching options are in common use as the primary goal is to save the unique beauty of a person on the photo without adding to much shot editing changes. The next direction, in which professional portrait editing is greatly developed, is commercial photo retouching. For sure this industry dictates its own rules connected with various steps and techniques, which are taking into consideration while doing high end portrait retouching. But still the common thing is that it deals with a single or a group shot, which are intended to be published as magazine pages. The sphere of their usage varies greatly staring with fashion covers and ending with extremely high quality advertisements. And depending on the desirable photo goal, our professional specialists may apply different ways of image enhancement such as magazine retouching, dramatic photo editing, glamour retouching or hdr photo editing. These are four mainly used photo improvement services for commercial industry. Each of these editing ways has some particular features, which distinguishes them from other ways of retouching. Still they all have something in common. And the issue is that, no matter what kind of service you will choose, everything will start with portrait retouching service, as it is believed to be the most essential as well as starting point in every shot changing work. Although all kinds of commercial editing are in quite often usage among professional photographers, one service still occupies the first place of popularity. That is professional glamour portrait photo retouching. Only this editing way is able to provide a "right" portrait that is worth being published as magazine page.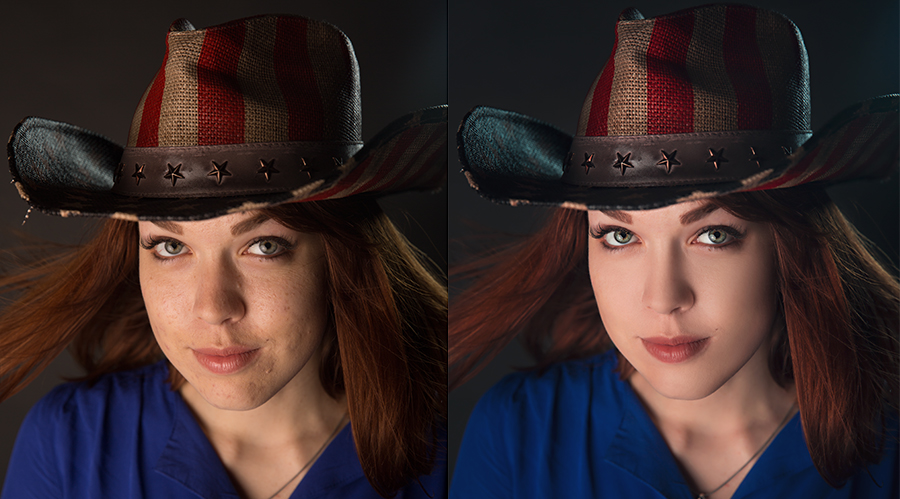 Professional glamour portrait photo retouching
As we have just mentioned, glamour portrait photo retouching is one of the most popular kind of portrait editing. This kind of high end portrait retouching is considered to be the most time-taking and delicate facets of image editing. But the photo result, achieved with its help, is truly impressive. Glamour editing is able to change every ordinary living portrait made either in private or professional shot studio, into a glossy, studio-lit affair with a changed background, proper color adjustments picture.
Moreover, unlike ordinary portrait retouching service for private or everyday usage, glamour improvement is considered to be more stylized. So, as a rule it deals with model photo retouching as in this sphere the level of image changing is much deeper and the picture results are brighter in order to allure more and more customers.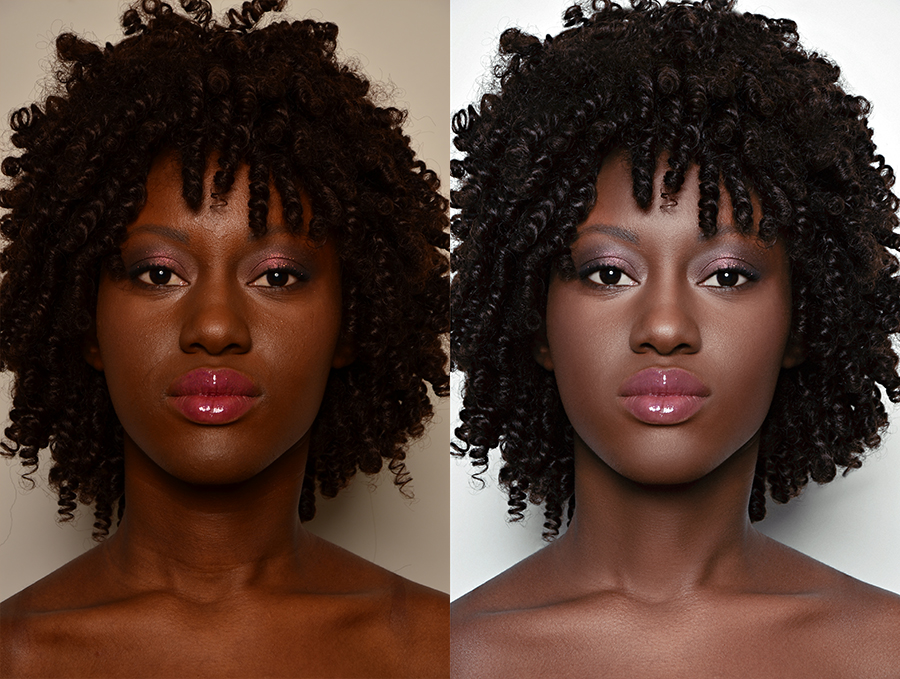 Professional portrait editing
As you have understood the range of applying professional portrait retouching services is quite wide and diverse. Although commercial and private editing differs a lot from each other, the starting basic steps in both variants of image enhancement are quite alike. So, the first thing, that every photo editor faces, is the task to identify and totally preserve the particular contours and face expressions of the person or group of people on the shot. All retouchers try their best in order to bring about the perfectly right perspective as it a thing of great importance in the sphere of portrait retouching services.
Further editing companies start to use widely-known retouching techniques. The most tiring one is portraiture skin retouching, of course. It contains skin smoothing, removal various drawbacks such as blemishes or even scars, hiding wrinkles, etc. You may be quite confident that after applying skin retouching online your shot will be much closer to the perfect beauty. In many cases skin editing is the only step that is needed to be done. But if it is not enough, retouchers continue their enhancement with retouching hair in Photoshop. That enables to achieve a brilliant image of healthy hair. Modern techniques have made it possible to provide digital hair color changing, taming wildness, creating fullness and volume, getting rid of flyaways and even creatively hair retouching. As you have understood, the circle of options is rather wide and working with curly, thin, and short hair is not the sky limit for professional editing companies. Professional portrait retouching services also include eyes editing. The variants of improving eyes in shot are numberless. But the most popular are red eyes removal, widening and darkening lashes and adding digital make-up. As a rule photo editing companies pay a great attention to this step, as eyes are the first to be noticed in portrait photos and that is why there is no possibility to make any mistake. In high end portrait retouching teeth whitening and fixing is also rather essential. The smile is the thing that is able to allure and for this reason it should be beautiful and without any drawbacks.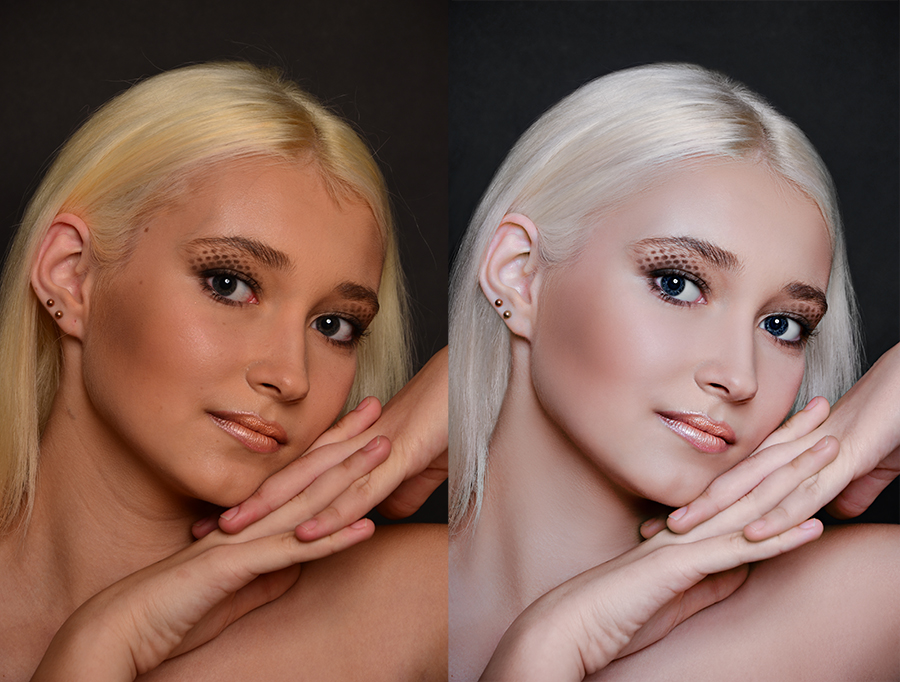 High End Beauty Retouching Team
Our editing company is proud to co-work with professional retouchers only, who are deeply in love with their occupation and experienced enough to provide our demanding customers with cool high end retouching before after. They tend to work with modern equipment and professional online shot changing programs. In combination with proper skill set and enormous experience, they are able to put the reputation of our photo retouching company on the high level among our permanent and would-be clients.
We understand that with the popularity of different magazines, photo agencies, which make various advertisements in all possible spheres, and, for sure, web pages with diverse described topics, the necessity of shot improvement is hard to be exuberated. Almost every photo that a person sees in everyday life is more or less changed with the help of private or commercial photo retouching.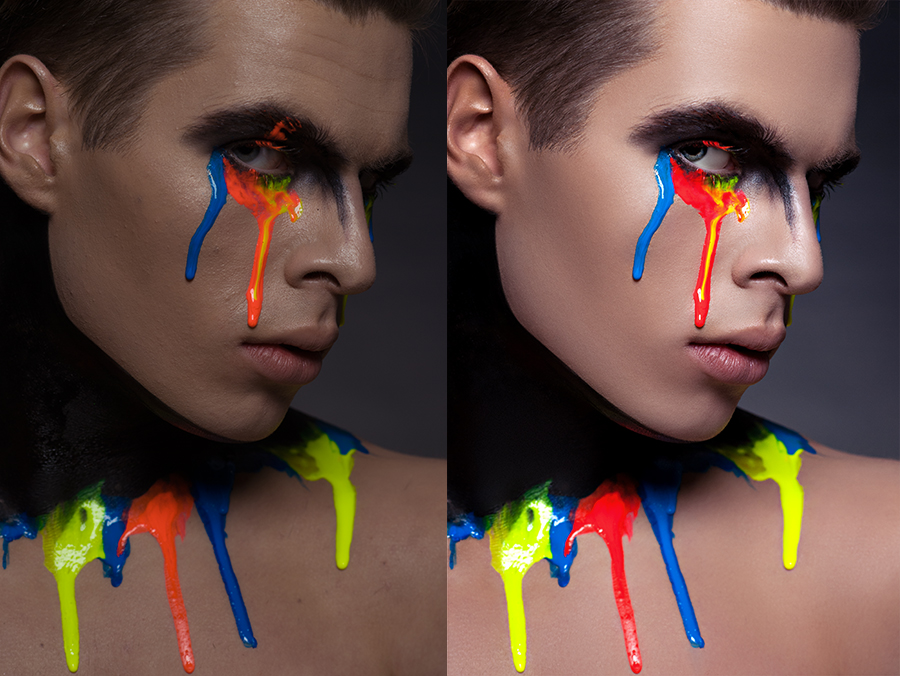 High End portrait retouching
But still a lot of people tend to believe that the only thing, which is necessary in order to get a brilliant photo, is just a professional camera. If you think the same, you are definitely mistaken. Even the most expensive and up-to-date equipment is not able to guarantee the proper result. Some shot mistakes or natural drawbacks can prevent every photographer from a good photo. That is why various editing options are applied to the shots. And here lies one more delusion. Photographers, even professional ones, do not always use picture editing themselves. The reasons for this may be quite different. Some shot makers understand that their retouching skills are not enough to reach a desirable goal, some photo masters simply do not free time to devote it to image enhancement. Still no matter what the reason is, as editing companies are on the top of popularity. That is rather simple for photographers to outsource their raw photo works to retouching teams and just be free for developing their photography talents without thinking about this tiring work. Such kind of cooperation presents pluses for both sides. Thus, photo makers have time for their creativity and gaining popularity and photo companies have vivid possibilities for developing their editing skills in different spheres, starting from just simple standard editing to applying proficient fashion retouching services.
Our professional team is a bright example of such companies. From day to day we endeavor to broaden our editing talents and put our changing options on the best level of popularity. In order to allure more and more clients we provide the most reasonable and pocket-friendly photo retouching prices. Are you ready to experience the combination of high quality, quick results and impressive low rates? If yes, join the happy rows of our clients!