30 fashion winter photoshoot ideas
Winter photoshoot ideas list is a good trick for any photographer who is occupied in fashion photography. We prepared a collection of useful ideas for your fashion photo shoots in the winter. So if you're in need of high end portrait retouching, a list of different poses, and destinations, this article will help you lessen such need.
How to make a unique winter model photo shoot
Winter is all about celebrating, making the environment comfortable and cozy in the warm atmosphere. Without it, everything would be grey and boring. The above is also true of a winter photo session. Below we're going to help you choose what to wear for a photoshoot, where to make your photos, and what else you need to make your photographs truly special and magical. If you're not sure which photo style to choose, we offer you our article "All photography styles you should know".
We recommend watching the following video about portrait photography ideas for winter photoshoots.
1. Use temperature
Take a stripped plaid, a cup of something hot for the model. Go outside when it snows and take several photos. It emphasizes the temperature of the season well, and add the motion to the photograph.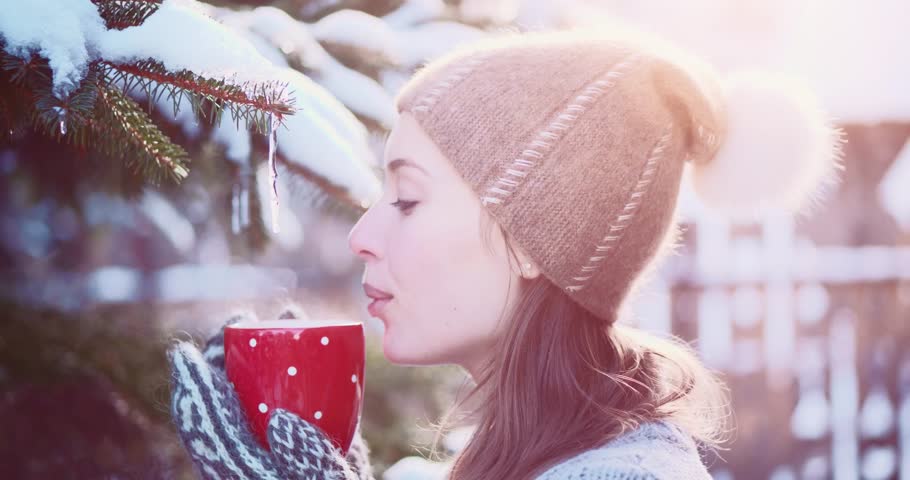 2. Decorations everywhere
Take some decorations and use them on a Christmas tree. Make the party atmosphere, invite some people dressed in Christmas costumes, and try to make candid photos.
3. Fashion baby
The following cute idea for winter fashion photography belongs to babies and toddlers. Prepare the faux snow so that the child doesn't get cold. Let the parent put some white fluffy pants on their baby and a Christmas hat, adding a bit of bells or candies in green and red colors – and here it is, a cute and fashionable photo.
4. Bokeh
What can be more magical then Bokeh effect on the background. A beautiful and skinny model and golden lights make a stunning fashion photo.
5. Without snow
It is possible to make a winter photograph outdoors without snow. Use a dress as a main element of the Christmas mood on your photo. Check out the sample we found. Looks fashionable and as for winter.
6. Fashion magazines
If you plan to make a studio winter fashion photoshoot, you need a very creative idea. We recommend looking through fashion magazines and finding inspiration from your favorite photographers' last works. We chose Vogue and like the model in antlers. Pay attention to her pose and note it.
7. Contrast
Black clothes and white background is a winning combination for a beautiful fashion photo. Choose a snowy wood as a destination and you wont regret.
8. Pajamas
Who said pajamas photo sessions can't be fashionable? Wearing the thematic pajama will make your winter fashion photography funny and chic. This cute Christmas outfit looks amazing on the white background.
9. Silver & Blue
Use winter props in blue and silver tones. It can be boots, a scarf, a blanket, rings, fur mantle, etc.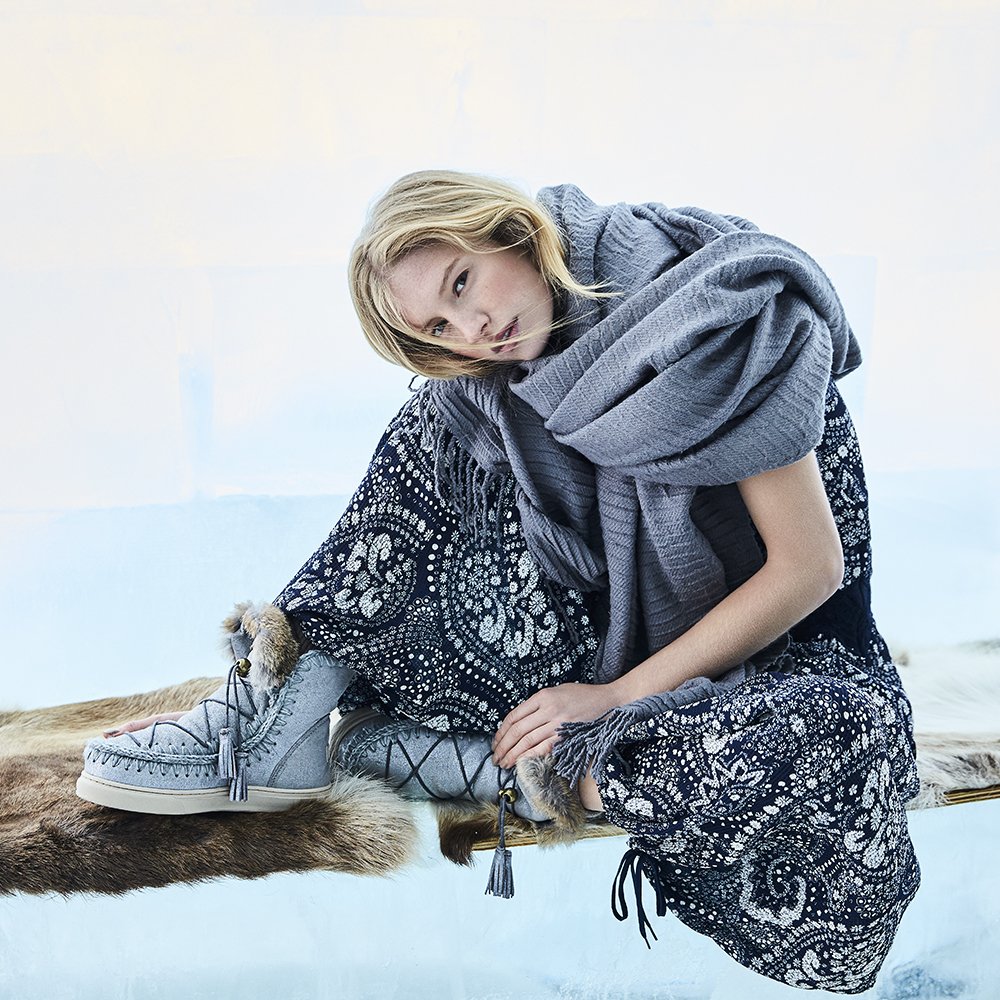 10. Wind effect
Using winter always make a fashion photos amazing. It adds motion to the portrait by means of moving hair.
11. Bright lights everywhere
This idea is great for boudoir photoshoots. Use lights as clothes. Offer your model to wear colorful fairy lights. Experiment with the lightning and poses to make it even more sensual.
12. Presents
This is a perfect idea for the studio winter model photo shoot. Make or buy as many present-boxes as you can. You can even make the background have the color of the presents. It will emphasize the model and make her/him the central point of the fashion image.
13. Temperature-protected
Does your client want some winter photos combined with very little cold tolerance? Make your pics in a special studio with professional lightning and the snow machine. They can literally put on everything they like.
14. Big red dress
A beautiful red or golden dress is a perfect prop for any winter fashion photo. The following example shows how beautiful and High End this image looks.
15. Fashionable macro
If you are an advertising photographer – this tip is for you. Use the white and snowy background to focus the potential buyer's attention on the product you promote.
Top 15 outdoors fashion photoshoot ideas in winter
1. The playful snow
This style of photos is highly recommended for women. Your client puts on a beautiful dress, makes a bright or matte make-up. Then let her/him get some sort of coat in order not to freeze in the snow. You could also offer to use a warm blanket. The main idea is to play with the snow: throw it up, put it in model's hair, clothes. Experiment and catch the moment. Candid fashion photos makes a fashion photo session successful.
2. Soft look
Offer to make a natural make-up in grey and white tones. Choose a park as a destination surrounded by snow (you can use a snow machine). This elegant background also can be a forest, a small house, etc. Model also puts on something white and light, and show her smile. The perfect photo is ready.
3. Couple photo
Winter fashion photography for couples has many variations – you can recommend your customers to wear elegant costumes and dresses. Make a simple pose and let your couple feel comfortable and relax. They can speak, laugh, play with each other, and make faces. Everything will look fashionable because of chic cloths.
4. A big knitted hat
This winter big hats in soft and matte colors are in trend. Recommend your model to use this warm prop. A wonderful winter outfit idea for a fashion photoshoot outdoors.
5. Cute couple in snowfall
Hugging or kissing looks cute on fashion couple photos. We recommend watching the following video on YouTube for beginning photographers in the fashion engagement photoshoot.
6. Snowman
Build a snowman. Prepare hats and scars for your models and the snowman in different colors. Now, tell the model to take one of the high fashion model poses for portraits with it: hug it, give it a kiss on the cheek, improvise, and be creative.
7. Wild animals
The winter model photo shoot can consist of more than just models. Take a wild animal, for example a wolf or two of them. Model wears something white and very warm. Ask your model to stay brave in order to receive a dramatic photograph.
8. A fashionable child
Children fashion photoshoot outdoor is a great choice. If you want to touch the heart of the viewers, make them believe, that the child is in the middle of nowhere. A small, cute, beautiful creature who is trying to hide from the snow – this is very interesting and looks natural.
9. A blurry Christmas background
Focus on the model and blurry the background. Chick clothes and bright make-up enhances every female fashion portrait.
10. Without a pose
There is a good fashion poses illustration in the web, but candid photographs are the best. Many outdoor fashion photography concepts are based on this idea. Take photo of people decorating their houses before Christmas. Bright lights and snowy weather will only enhance the photo's composition.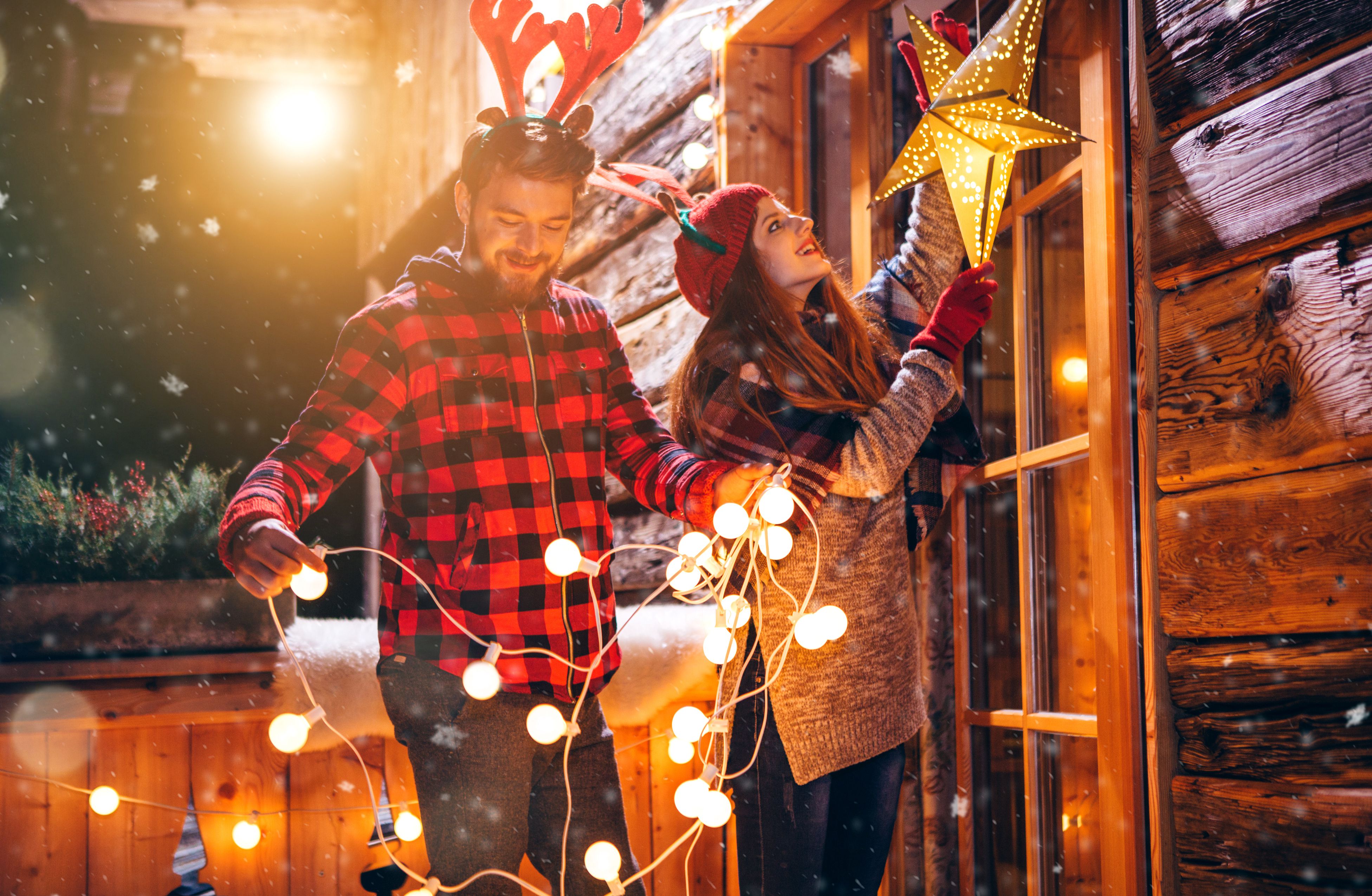 11. Make a fire
This is a great pose for winter family photo shoot. What do your clients do? They sit near the fire, eat marshmallows and laugh. They put on neutral color clothes and may even not pose to the camera. This is a wonderful variant for a group photo session in the woods on a picnic.
12. Elegant clothes
There is an interesting answer to what to wear for a photoshoot. Place the model on a bright chair near the wooden or glass doors. Find bright and chic clothes, and let the model wear them. Experiment with accessories.
13. Hot 'n' cold
Among all fashion poses sketches, this idea has always worked well. So why not to dress the model in a traditional Russian party – into something bright, festive and warm? Pose her with a cup of hot tea or drinking it. Tell them to blow to make it cooler and to be pictured properly. When you will make a photo retouching, add smoke to the cup, and receive a good outcome.
14. Cosplay
Let the client get on a costume of Snow White (you don't even need the Dwarfs), take an apple in their hands and pose right in the snow. The cosplay winter photoshoot is a very popular trend nowadays. In case you want to know more about the trends in 2018, we've written this article called "Fashion photography industry trends – find better ideas faster".
15. White knight
Some fashion poses for female models are made with horses. In the snow, a white horse and a model in the white dress and an elegant pose will make you remember this unusual winter photoshoot. You would better throw the light at the center of the composition and put the model there.
The list of high fashion photography poses
1. The small and the big
Winter makes everything more beautiful. Choose a sightseeing place and place the model looking at it, showing their back to the camera. Black and white retouching is recommended.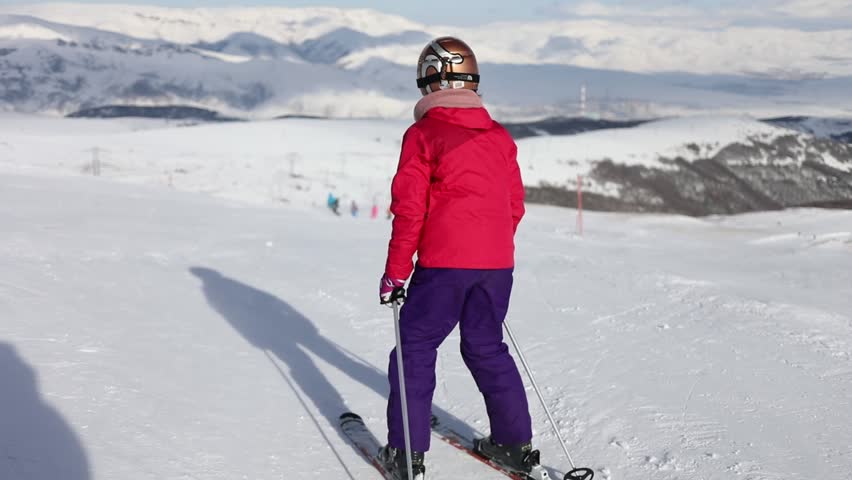 2. In motion
Make a fashionable and dramatic photo using the motion pose like the one depicted below.
3. Hug yourself
If the model doesn't have much clothes, then let her embrace herself with hands like she is cold and trying to stay warm. Blur the background and focus on the emotion the model shows.
4. Street style
Ask your models to face to the camera. They bend one leg at the knee and put their arm on or around it. Looks good when they're standing one side to the camera. What to wear for a photoshoot is not a very important question here.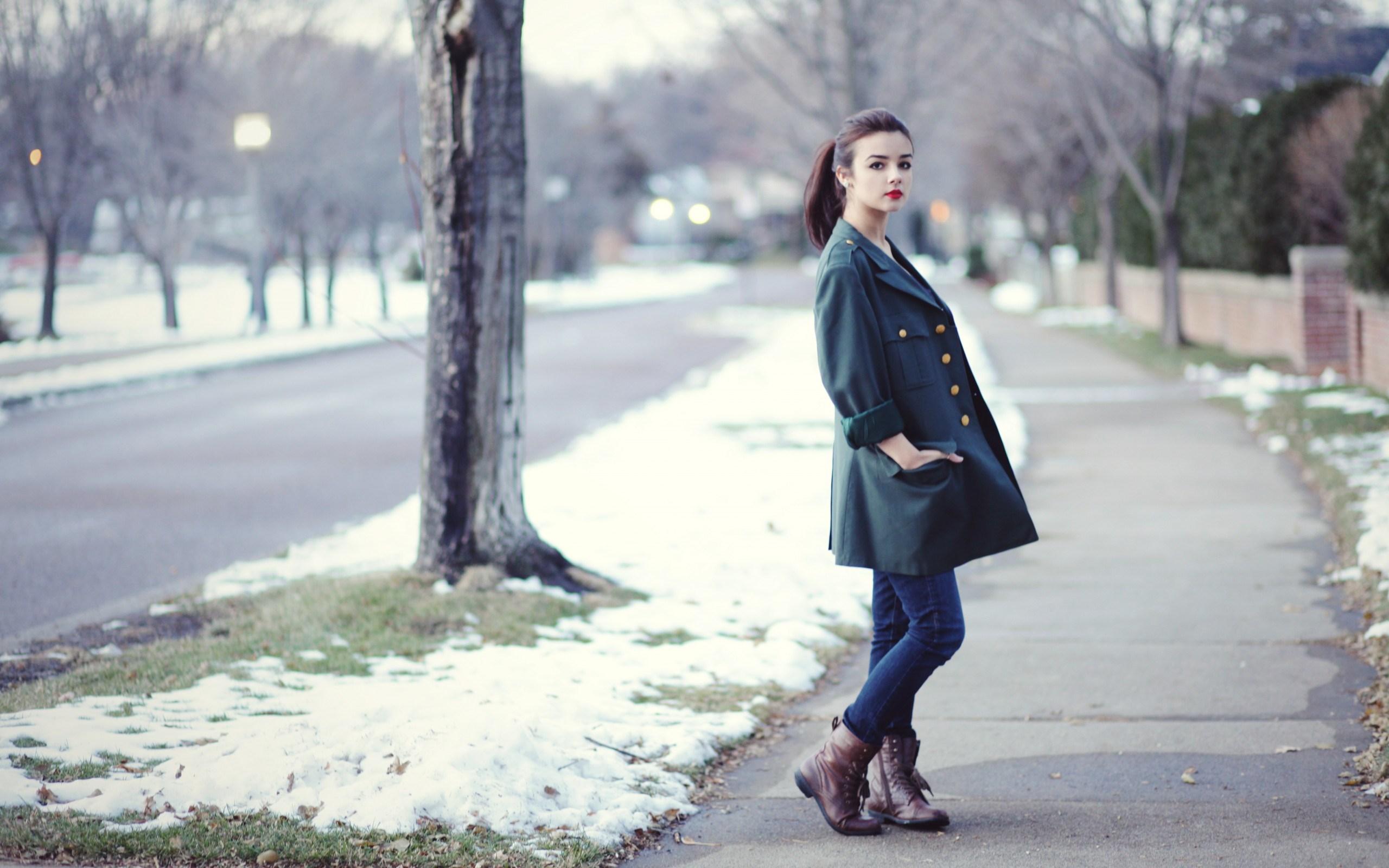 5. Let it snow
Throwing the snow up never gets old and boring. The model can stand, jump– that's your and your model's choice. Please note, the hair looks good over shoulders.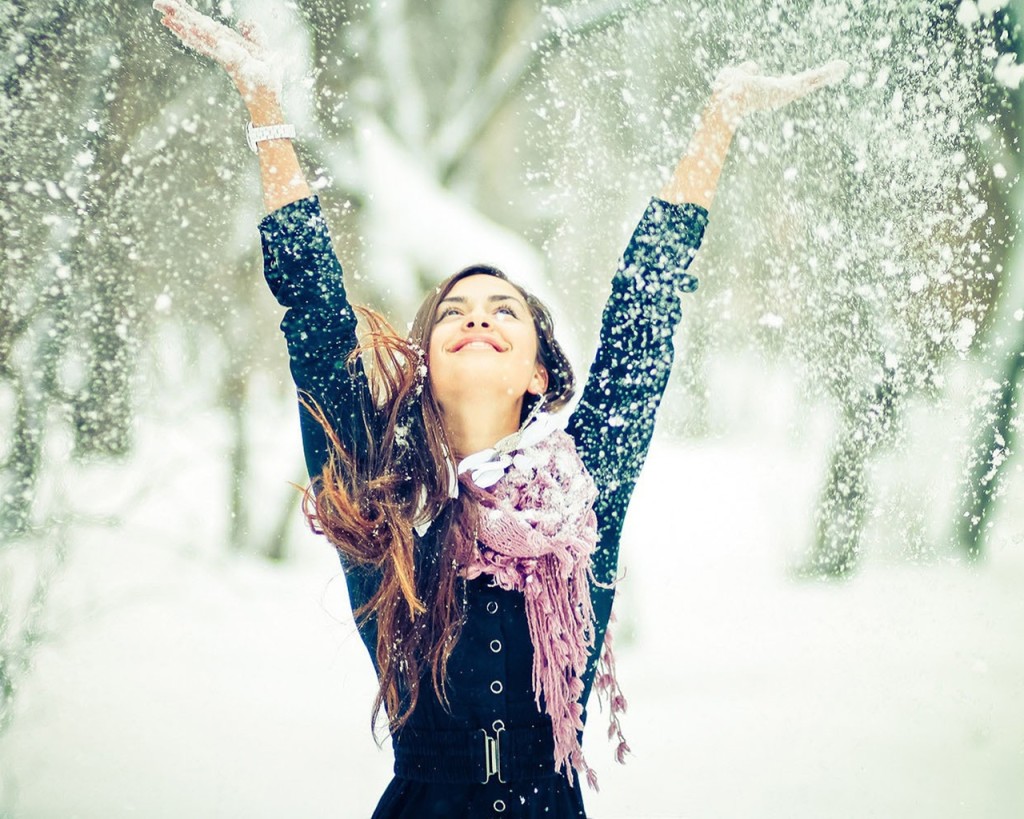 6. Stand still and frozen
Standing still can never be not in fashion trend if the model has a chi clothes. You can experiment with hands: to raise, lower, bend, wring. Be creative and ask your model to be crazy.
7. A playful couple
The man hugs the woman from behind. They're smiling and laughing. Very peaceful and cute. The main note is to make the pose natural and not faked.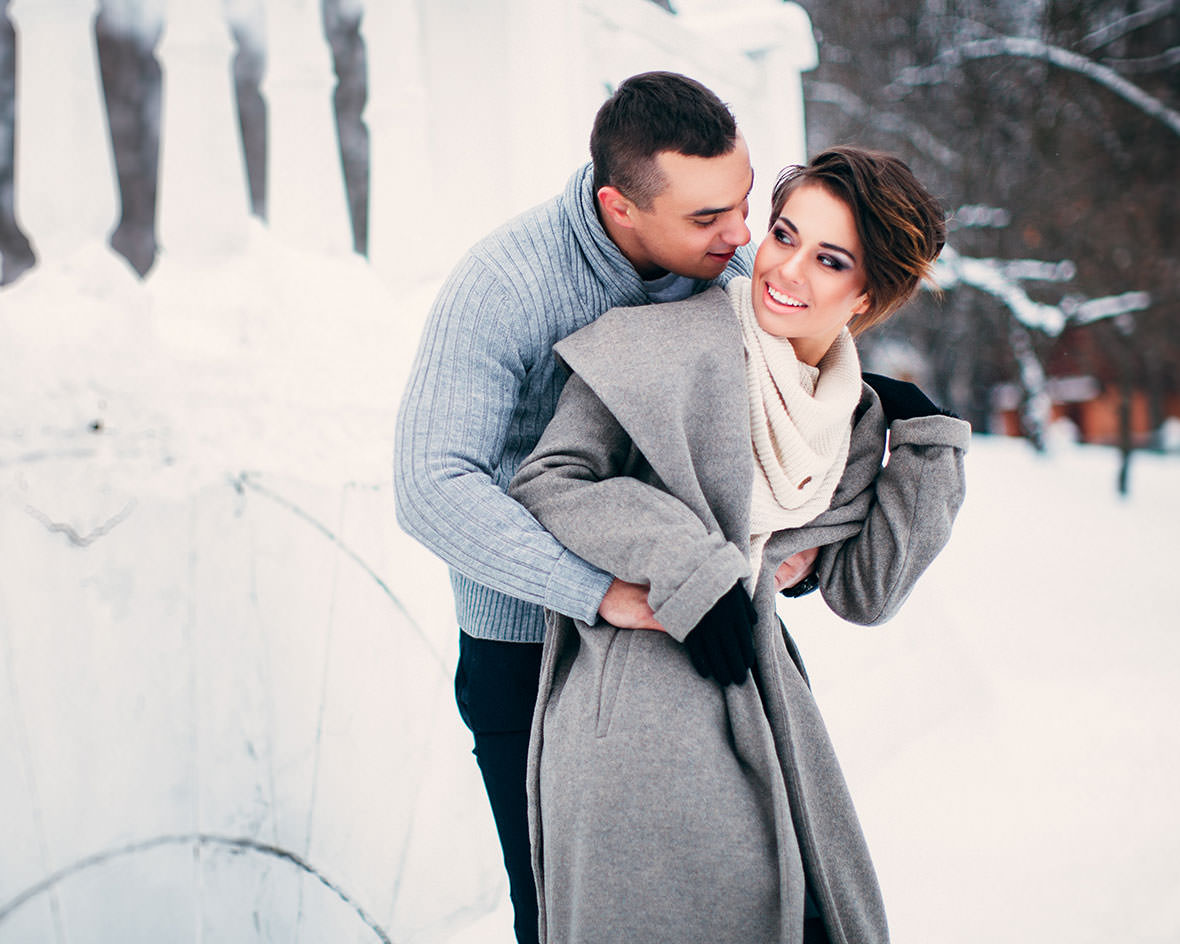 8. Playing with a coat
If it snows, you can ask your model to wear a favorite coat with fur element and play with a cowl. Let the model smile and show her white teeth naturally.
9. Lying on the snow
Use a warm blanket and put in on the snow. Ask your model to lie on it and make many poses
10. Imitation
Let the children become adults and kiss each other on the cheek. So sweet and innocent pose for fashion children photoshoot in the winter.
11. In the wood
Let the tree in the woods be a model's prop. Let the client lie on it and hug it, looking right into the camera. A beautiful dress will only enhance the photographer's idea of the photograph.
12. Glamour pose
Make your model open her moth slightly and be very glamour. Do not overdue with it.
13. Romantic
Hugging, while sitting or lying on the snow. Best done with trees on the background.
14. Stylish
Ask your model not to look right to the camera. Let her look down or even close her eyes.
15. A cute animal in the focus
Bring an animal friend and hug it. Sitting together on a snow would look really warming. Play with it in the snow or flatter it.
So, we hope you've enjoyed our article. If you're interested in fashion photo retouching, look at our high end retouching before after closely. You shall find them more than just attractive. Read our blog, find new and fresh ideas for your photo session and ask Highendbeautyretouching service if needed.
Share the article with your friends!

---
Vote for the article
Average rating:
---
Your opinion is important! You can add your comments to the post.
Use your Facebook account to add comments
Add a comment via Disqus: